Joint interview with Fleur and Fanny, R&D Quality Specialists at Diabeloop
How they complement each other, their key challenges and their "pivot" role which interfaces with several business lines.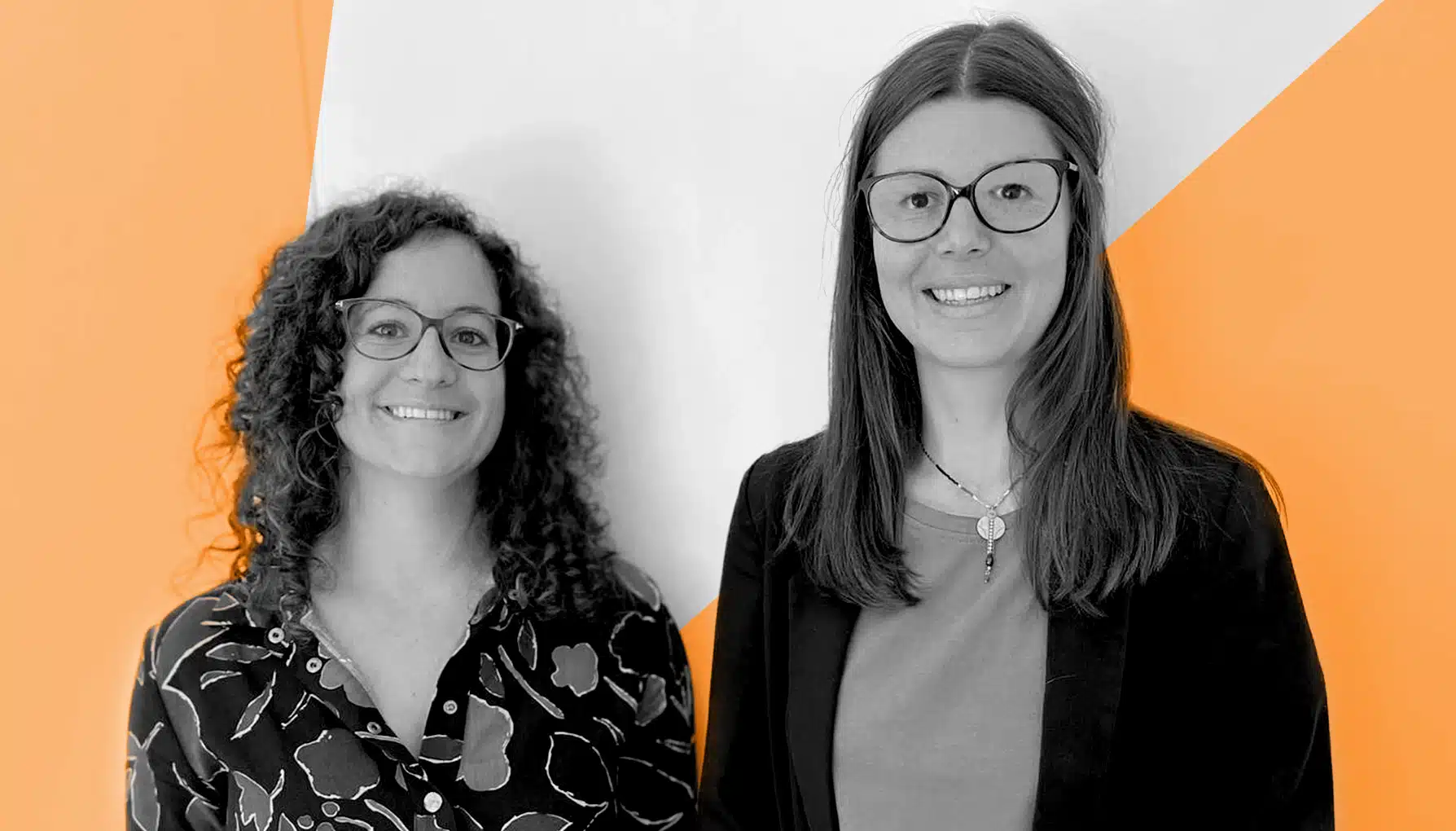 Diabeloop: How long have you been working at Diabeloop, and how did you end up here? 
Fanny: I joined Diabeloop in July 2019 as a QARA Specialist. I'm a healthcare I.T. engineer by training, and, since 2013, I've been working in the Medical Device (MD) industry. Before Diabeloop, I worked as a consultant in setting up a Quality Management System (QMS). 
Fleur: I've been at Diabeloop for almost two years. Fanny and I have very different backgrounds. I graduated in biomedical engineering, and I specialized in applied data science in the medical industry. I held several positions as a Data Manager, Data Scientist in R&D in the radiology and healthcare data sectors. It was during an end-of-studies internship where I had assignments combining quality management systems and technical files that my interest in quality was really sparked.
Diabeloop: What does your role essentially consist of? How do you complement one another?
Fanny: Our role as QARA Specialists at Diabeloop involves supporting the technical teams as they design and develop MD software. We are the guarantors for the design and development process, and we make sure that these processes are correctly applied. This involves working together with the development teams and project coordinators to put together technical files that are presented to regulatory authorities so that they can assess the compliance of our devices.
Fleur: Don't forget that there's not just one, single way in to access this position. There are several pathways possible. The regulations in our industry, built around a framework and quality (including standards), are kind of like a supporting toolkit that helps us better comply with the given framework. Our role as quality specialists involves finding the best solutions to comply with the applicable standards and rules without hindering innovation. I'd say our role is a "pivot", interfacing with several business lines. 
Fanny's strength focuses more on the methodology, whereas mine lies more in the technical aspects. That's why we work so well together. I've had to do software coding, database processing, statistics, machine learning, etc. All of that has helped me understand the algorithms and what hides behind them. Learning the technical aspects also gives you an opportunity to think more critically and sometimes even challenge the development teams. 
Diabeloop: Agile method, V-model… Which method do you work with? 
Fanny: Our working method is directly influenced by the working method used by the development teams, and here at Diabeloop, they opt for the agile method. The agile method offers up a framework and practices which we combine with regulatory deadlines, letting us roll out the whole process. Regular retrospectives are great for enabling us to target continuous improvement.
Diabeloop: What are your main assignments as R&D Quality Specialists? 
Fleur: We're tasked with monitoring the development teams' progress, answering to the notified bodies, carrying out internal audits, putting together the technical file, and keeping it up to date by collaborating with other teams. 
Continuous improvement is the heart and soul of our work. We need to be able to reflect on the processes to take into consideration both new requirements (from regulations, from our environment, from our partners, etc.) as well as feedback from the people involved. 
Diabeloop: What really drives you in your work as an R&D QARA Specialist?
Fleur: Without a doubt, I'd say the countless interactions we have that are so diverse. Our role is cross-disciplinary, which really enriches our reflections and the outcomes. When we encounter an issue in a given situation, everyone gets together to discuss and implement solutions. We work a lot in "Test and Learn" mode, which is directly driven by agile methods. 
What I love about working at Diabeloop is that quality is an integral part of projects, and it's directly integrated across all of the various divisions. It's extremely gratifying, the project's stakeholders understand why we're there, the aims of the actions we undertake, the added value of QARA, and all of this is within a dynamic of mutual sharing, even when quality is the last link in the chain within most companies. In my opinion, that makes a huge difference. 
Fanny: I'll back what Fleur said regarding the wealth of exchanges and the number of contact points we have. I'd even go so far as to say that we are the connector, as we're interconnected with a lot of departments. To understand the issue, we can't be partitioned off, working in silos. The regulatory framework that our Industry imposes on us is extremely demanding. So, how can we make sure that it's as simple as possible for the company and for the teams, while also fulfilling our shared aim of making sure that products are compliant and commercially available? 
As Quality Specialists, we also have a role of awareness-raising, training in quality assurance, and making sure that teams are on-board. Here at Diabeloop, the teams have a good understanding of the regulatory framework and are always putting forward suggestions. The company promotes an open-minded approach, and even the simple fact that nothing is set in stone, it's always possible to optimize and improve things. 
Diabeloop: Are there any rituals in your working organization, and what are the good practices needed to succeed in your assignments? 
Fanny: Every morning, we discuss with the technical teams to see where they're at with the developments and to be on-hand to support their needs and answer their questions. 
Throughout the day, this support and listening to their needs are facilitated by the fact that our workstations are on the same islands as those of the technical teams.
To complete our assignments as smoothly as possible, sharing within our R&D QARA team is essential, as we need information to be shared around. In one sense, that's because we may run into the same issues, and in another sense, it's because we're like a core, tasked with centralizing and sharing the same information with the teams, always making sure that things are harmonious and coherent. 
Diabeloop: What would you like to say to potential candidates or people thinking about applying for an R&D QARA role? 
Fleur: To be completely honest, I can't understand why we struggle to recruit so much for our positions. The image associated with quality roles is definitely part of the answer. Being a "Swiss army knife", getting involved in everything… These are certainly potential points of hesitation for some people. Yet… We're often mistakenly seen as a police figure, although the quality approach isn't the same in all companies. Here at Diabeloop, there are about 10 quality specialists for more than a hundred employees, which gives you an idea of the importance of quality. The latter serves the business, and the company has really understood that. Here at Diabeloop, quality is a central link in the chain, completely integrated into every project, with a dedicated reference person. This approach allows for incremental optimizations. Quality isn't always isolated in an ivory tower, just there to impose changes at the end of the race. The R&D teams are fully aware of the impact and necessity of quality, and that's the greatest challenge to overcome. When technical team members have automatic reflexes for questions relating to quality, that's already a sign of success for us. In the opposite sense, quality takes into account technical aspects and impacts. As R&D QARA, we're constantly asking ourselves how can we combine standard-associated constraints with the reality in the field, and questioning how we can build processes in line with the teams' working methods? To make sure that it's fluid in both directions, we reflect together on the quality/technical impacts, and that's what gets them on-board. 
Fanny: I'd tell them that no two days are the same in our work. It's a very challenging job. We're working on several fronts but in a structured and organized manner, through various units within the QARA division. Working for a cutting-edge company that develops software solutions, based on Artificial Intelligence, is extremely stimulating, technically rich, and associated with various challenges in terms of fitness for use, cyber-security, and many others. 
It's a constantly changing environment, which allows us to grow on cutting-edge topics. 
Diabeloop: How have you found working for Diabeloop as a company? What needs to be taken into account to work for an organization like Diabeloop's? 
Fleur and Fanny: Personally, we identify with the company's mission. Diabetes can affect anyone, so contributing to innovation and overcoming public health challenges means we can give something back and do our bit. That gives our work purpose on a daily basis. 
Diabeloop is a company that trusts its teams, first and foremost, through the freedom and autonomy which it gives us, such as letting us work from home. That trust leads to professional conscience and accountability. The company gives us a lot of tools and equipment, so that we can work individually or in groups, host workshops, in the office or from home. Some collaborative tools can be a little confusing for people coming from more traditional companies, but we're really well supported from our very first days within the company. Diabeloop promotes communication and encourages constructive criticism. In the hyper-growth phase, the organization maintains relative proximity with management, which is really reassuring, helping us to stay the course – whenever we need help or support, the door is always open, we just need to knock! 
To work at Diabeloop, you need to take an interest in the company and have a curious personality. You need to enjoy challenges and be able to demonstrate perseverance. We sometimes get the impression that we need to take on something huge, something insurmountable, but we get there, one step at a time. You need to have a good attitude and enjoy centralizing things and communicating. Everything goes at a fast pace here at Diabeloop, and the teams fire on all cylinders. We can change direction pretty quickly, which means you always need to be able to adapt. You need to be open to trying and accept that, potentially, it might not work, that we're going to overrun a deadline… In the end, what counts is that we always do what's best for the company. In a constantly dynamic environment, we need to be able to prioritize.